Save Up to $1,000 When You Add Insulation
New Mexico Gas Company offers rebates up to $1,000 when you have a participating contractor add insulation to your home's attic or roof and crawl space.
Was your home built before 1990?

If so, you probably need insulation. Homes built before 1990 have an average of 4–6 inches of insulation, while newer homes have 12–18 inches of insulation.
Benefits of Upgrading Your Home's Insulation
Properly sealing and insulating your home can help you keep your comfort up and your energy costs down. You'll reduce outdoor noise, control humidity, and prevent pollen, dust and insects from entering your home, plus:
1
Save Energy and Money
Get up to 20% savings on your heating and cooling costs.
2
Improve Comfort
Keep your home warmer in winter and cooler in summer.
3
Get Rebates
Save more depending on the R-value or number of inches of your existing insulation.
How It Works
Insulation must be added between April 1, 2023 and March 31, 2024. Rebate applications must be received by April 30, 2024. See Program Terms and Conditions for additional details.
Tiered rebate amounts are available depending on the R-Value of your existing insulation. (Higher R-Values indicate better insulated properties.) Ask your participating contractor for more information.
|   | Attic or Roof Insulation Tier I: Rebate of 40% of the cost, up to $800 | Attic or Roof Insulation Tier II: Rebate of 40% of the cost, up to $500 | Crawl Space Insulation Rebate up to $200 |
| --- | --- | --- | --- |
| Qualification | Existing insulation is R-11 or less (usually four inches of insulation or less) | Existing insulation is between R-12 and R-19 (usually four to six inches of insulation) | No existing insulation |
| Improvement | Add R-19 insulation or greater (usually six inches of insulation or more) | Increase total insulation to R-38 or greater | Add R-19 insulation or greater (usually six inches of insulation or more) |
*New construction projects and additions to existing homes do not qualify for insulation rebates.
Customers who receive natural gas service from New Mexico Gas Company, as evidenced by the New Mexico Gas Company residential customer account number, are eligible.
How to Participate?
Improve your home comfort and savings by adding attic, roof and/or crawl space insulation in four easy steps:
Save invoice and take photos of "before" (next to a ruler) and of your furnace or boiler
Stop Wasting Money on Your Energy Bills
According to the ENERGY STAR®Rule Your Attic! program, 90% of American homes are under-insulated.* When you add insulation, you save money on your energy bills and help reduce pollution that contributes to climate change. Watch these videos for tips to properly seal your home:
*Compared to 2006 IECC standards, Source: Boston University and NAIMA
Ways to Add Insulation to Your Flat Roof
When you are having roof work done, your participating contractor can install insulation by: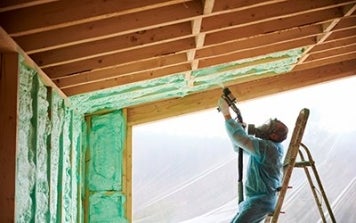 Blowing in insulation
Create access holes by removing sections of the roof deck, blow insulation into the roof cavity, then seal the roof and complete work.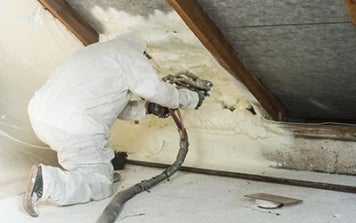 Adding rigid or spray foam
Convert the roof cavity or attic space into an unvented, conditioned space by sealing the exterior parapet vents and adding qualifying insulation. Describe the work on the invoice.